Wescom Defence state-of-the-art pyrotechnic products provide comprehensive, proven and reliable capability to mark/communicate position. Effective critical asset marking (including solutions for submarines) or individual position marking during day time and night time search and rescue operations. This can be achieved by using smoke, dyes, signal cartridges and flares.
Miniflares
The Miniflare signal kit provides an individual with the means of achieving high intensity localised signalling for personal survival (to pinpoint location) or warn-off aircraft. The compact kit can be carried unobtrusively in combat clothing, or packed into personal survival packs (PSPs).
Signal Cartridges (19mm, 26.5mm, 38mm)
Signal cartridges are fired from pistols and provide a short/medium range signal in both white light and infra-red light conditions. They provide high-intensity localised signalling for land and sea operations. Multi-colour cartridges are available (red, green, white, yellow and illuminating). Cartridges are marked to facilitate night-time operations. Signal cartridges can also be used for communications between combat forces and night-time reconnaissance.
Signal Distress Day & Night
A dual-purpose compact personal distress signal for divers, or aircrew, features an orange smoke signal at one end for daytime use and a red flare for night.
Marine Sound Signals
Marine Sound Signal is a hydrostatically-operated explosive device for communications between the surface and a submarine. The device explodes under hydrostatic pressure emitting a distinct signal clearly discernible by a submarine at depth. Simplified operation includes several safety features, which reduce danger to personnel and craft.
Diver Recall Signal
The Signal Distress Day & Night is designed as a compact personal distress signal for naval divers and aircrew.
It should be carried in any situation where a robust and waterproof personal distress signal may be required.
The Signal Distress Day & Night is particularly suitable as a signal for divers who may accidentally surface away from their support craft. Waterproof down to 30 metres, it has a corrosion resistant case with 'O' ring sealing. This dual-purpose signal consists of an orange smoke signal at one end for use by day and a red flare at the other end for use at night. Protected by interchangeable end caps, the signal has tactile ribs at the flare end to aid identification by night. The smoke and flare are operated independently and use of one does not affect the functioning of the other at a later time.
The signal is visible from at least 5km by day and 8km by night in good conditions.
Buoyant Smoke Cartridge (40mm, Orange)
Designed for use by aircrew to assess wind speed and direction over water when carrying out Search & Rescue activities.
Sea Location Markers
Sea Marker is released from ships to illuminate, for up to 5 minutes, a landing zone for rotary wing aircraft. Also used to indicate distress.
Submarine Launched Markers
Submarine launched markers are designed to be deployed from the ejection tube of a submarine to indicate position. Available in red and green flare, plus white smoke.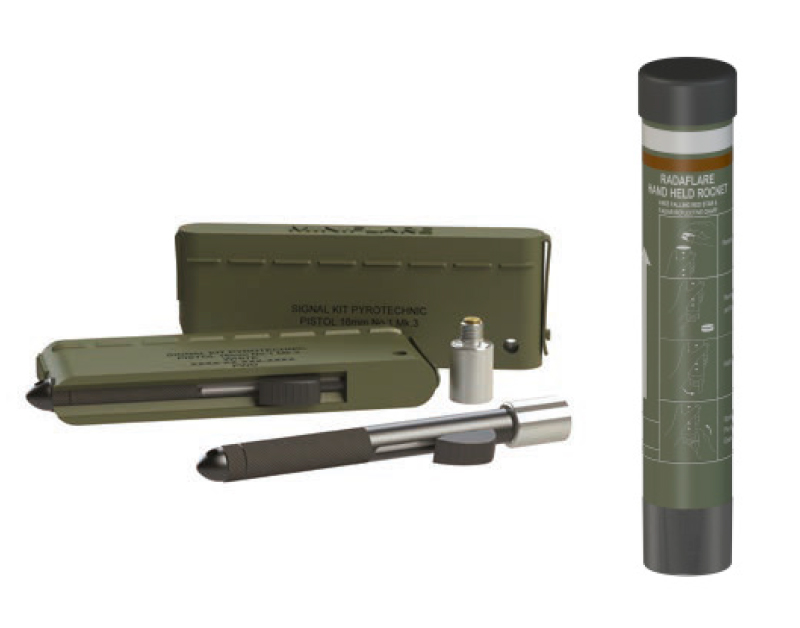 Miniflares and Handheld Illuminating Rocket
Light and Smoke Signal
Signal Distress Day & Night
Marine Sound Signals